BECOME AN OCEAN PROFESSIONAL
UPCOMING TRAINING DATES AND CENTRES
Abyss Scuba Diving
278 Rocky Point Rd, Ramsgate NSW 2217
email: [email protected]
ph: +61 (02) 9583 9662
CERTIFICATION DATES
10-16 September 2022
21-27 January 2023
11 -17 March 2023
29 April – 5 May 2023
17-23 June 2023
5-11 August 2023
Please note buy using a series of Zoom classes pre the IDC in Sydney and our 3 Course Director Approach, Abyss is Able to reduce the time required in Sydney for the IDC to just 7 days.
Brisbane Dive Academy
1315 Wynnum Rd, Tingalpa QLD 4173
email: [email protected]
ph: +61 (07) 3890 0342
CERTIFICATION DATES
3-12 November 2022
29-7 December 2023
23 Feb – 4 March 2023
20-29 April 2023
15-24 June 2023
10-19 August 2023
5-14 October 2023
Oceano Dive Centre
3 / 264 Pinjarra Rd – Mandurah- WA
email: [email protected]
ph: +61 (08) 9535-2047
CERTIFICATION DATES
15-20 November 2022
16-26 January 2023
Academy of Scuba
463 Browns Road, Rye, Victoria 3941
email: [email protected]
ph: 0422 631 110
27 September – Professional Dive Talk via Zoom. Enquire here.
CERTIFICATION DATES
4-11 November 2022
27 January – 3 February 2023
IDC Courses run approx. every 3 months.
Becoming a Diving Professional
We all associate exploration and having fun with diving, but what about a career, or maybe even just a "side hustle" in diving? Well, there may be more potential than you think. There are many routes that one can take, with some less obvious than others.
Commercial/Military Diving
Typically, the first image that pops to mind for people are commercial divers and military divers. These can vary in their intensity, with different levels of training. From boat hull cleaning to deep saturation welding jobs, the demands cover a vast spectrum. Different countries have varying requirements for the types of training needed for underwater work, and some, like scientific diving, may even require a certain level of commercial diver training. This type of work covers a multitude of areas outside of military and industry, too, such as search-and-rescue work, or police and insurance investigations.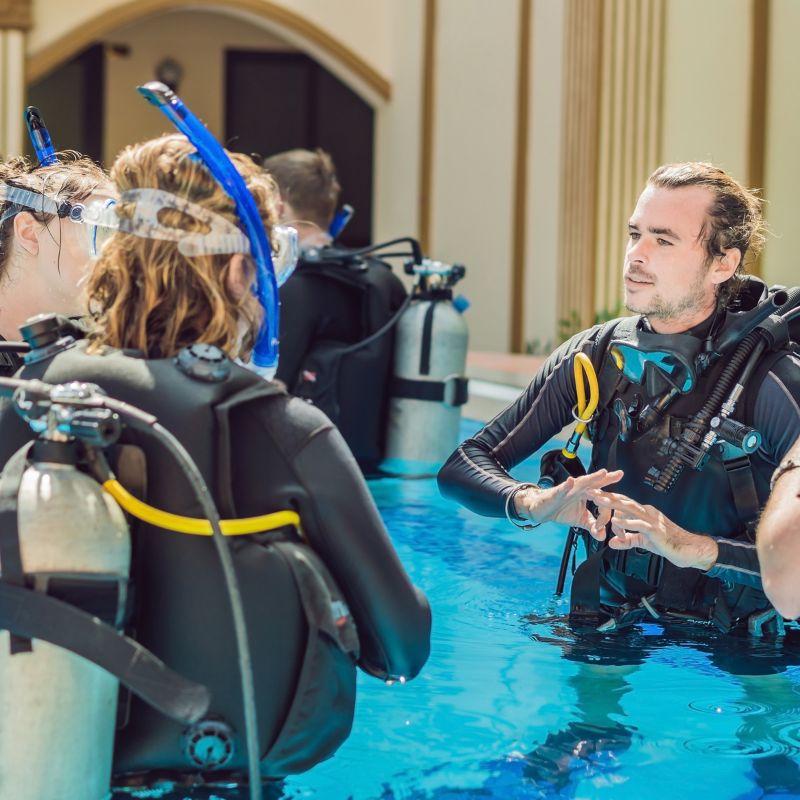 If you're a certified diver, this type of work probably crossed your mind, as you have likely been exposed to it. There are many training organisations which train divers how to be responsible for others in the open ocean, each with their own levels of requirement. This is what many would consider a "lifestyle job", in that if you were to compare the costs of all diving, training, and equipment against a university degree or other qualification, the "return-for-dollars" typically ranks lower. That being said, many certified divers already hold higher diver training titles, own their gear anyway, and dive out of enjoyment, making these "sunk costs". That makes the "dive guide" and/or "instructor" cost much more reasonable, in comparison.
The biggest benefit may be having something like the Great Barrier Reef be your "office" – much nicer than any cubicle. And yes, you get the joys of finding your local underwater residents with each dive you do, but as you're there more often, you really get to see the special and rare stuff. This varies from site-to-site, and can be anything as big as a humpback whale, to animals as small as unidentified nudibranchs. While the close encounters with nature are rewarding enough, what cannot be understated is the influence and impact you can have on other people. You are able to give them life experiences which they very well may cherish forever. There are so many "first times" you can deliver for others, such as diving a wreck, exploring a special part of the reef, or night diving, let alone taking open water students on their first dive ever. These can have lasting positive impacts both for the individual and for the environment, as all these experiences promote awareness and emotional investment in the underwater world.
There are responsibilities which come with the role, though, such as diver safety, boat and gear maintenance, and looking after seasick customers. And any job has its "bad days", but the good days are that much better than most "9 to 5"s…
Where this can be, and what this can look like for you, can vary greatly. For instance, there are many dive shops in communities with no coastline, as people still need training for when they go on holiday to the ocean. And areas with cooler water, like Melbourne or Tasmania, have just as much diving as warmer waters. These areas can offer unique experiences, with brightly coloured sponge gardens and large kelp forests, species found nowhere else in the world, and multitudes of wrecks- which are attractive for both the local diver and the tourist.
Freediving (and possibly spearfishing) Training
Freediving has been growing in popularity, and with good reason. Divers aren't hindered by the heavier equipment of scuba, allowing them to access harder-to-get-to destinations. They also aren't limited by the air in their tank, granting them more time in the water. For shallower areas, this can be especially advantageous.
Freediving also requires more exertion than scuba typically does. This promotes a healthier lifestyle, with a competitive element which can be ventured down if the diver so chooses. There is also a mindfulness and well-being element which many times comes hand-in-hand with freediving, promoting better mental health outside of the water, too.
Some people are for spearfishing, whilst others are against it. There is something admirable about wanting to appreciate the wildlife, rather than kill it, yet spearfishing is also the most sustainable form of fishing available. Species can be better targeted, size limits can better be followed without "bycatch", and there is typically less litter (no fishing line, no trailing hooks in fish mouths, etc.). Spearfishing could arguably called more "fair", as well, as there is more effort made by the diver than your typical fisherman. All these points are especially true when compared to commercial fishing methods.
Both freediving and spearfishing come with its challenges and inherent risks, and having an instructor guide a diver in best practices can mitigate those risks and make them better divers as well.
Retail and Administration
Challenges for divers can be typically addressed with either the proper training, or the proper piece of equipment. This is where retail comes into play. The role of retail should not be to just "sell" to the customer, but to listen to a fellow diver's wants and needs, and to educate them on how they can fulfil those needs with the right piece of equipment. There are a lot of different products available to divers, and having a professional who knows the nuances between them can ultimately give the diver a better overall experience, leading to more and better diving.
Other roles are also needed with diving organisations, with these needs varying widely amongst operations. For instance, some larger dive shops/charters have entire reservations teams. Others may have other needs like back-end maintenance on their websites, processing online orders, managing incoming emails, etc. Yes, these roles may lack the romance that the in-water roles offer, but they're still associated with diving. A "professional rating" isn't required, but having experienced divers in these roles is ultimately beneficial to the operation, as the queries, the products, the experiences are more relatable. Issues can be more easily understood and addressed, and consumer queries can be better answered.
Every regulator, every BCD inflator, every tank, every valve, every compressor needs servicing and maintenance. This requires an intimate knowledge of the equipment, as well as certification for each piece of equipment, typically for each brand. There is also a base level of knowledge which needs to be adhered to, making this area a nice, niche place to work in. Each regulator has a "schematic" for servicing, as the unit gets taken apart, elastomers and seats are replaced, and parts are properly cleaned and treated. Think of it as "scuba Lego", but with life support equipment operating at depth under high pressure. Whether this servicing is for the consumer, or for the rental equipment fleet of the dive operation, this is regular work which is a requirement for the safety of divers and the longevity of the equipment. A "professional diver" rating is not required for this type of work, but having diving experience is very helpful in understanding how equipment can be affected, its importance, and what a diver expects. What is required are those brand certifications, as well as that base knowledge, which can either be gained through on-the-job experience, or through certification by an organisation such as TQS.
Where can I go from here?
Many times, these roles can look like the "final destination", but they are actually just one step of the journey, depending on what you want from your career. If you find yourself working regularly on boats, you may use your instructor time to build up your hours working on boats, leading to captaining larger and larger boats. If you thrive when teaching others, you may decide to go on to becoming a course director, teaching dive instructors, or getting your certification to work with RTOs (Registered Training Organisations). This can lead to teaching other things, with a classic example being First Aid. Retail and admin can lead to management in and outside of diving. Servicing could be one step to working on other mechanical machines and processes. And as far as where you can literally go, well, dive work is happening the world over. Also, dive shops regularly offer overseas trips which you could potentially lead. The world is your oyster.
At the end of the day, though, would you rather get paid for swimming with humpback whales or filing TPS reports?